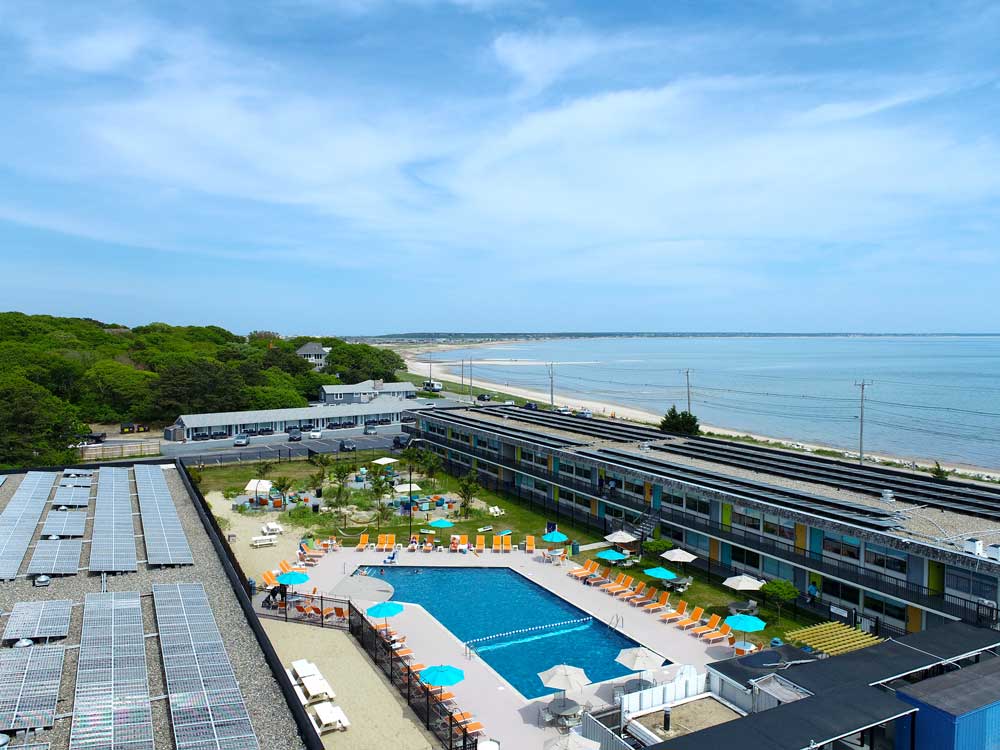 BEACHWOOD, OHIO (August 21, 2023) – A joint venture between Tramview Capital Management ("Tramview") and Linchris recently completed the off-market recapitalization of the Harbor Hotel, a 128-key hotel in Provincetown, MA on Cape Cod, a longstanding vacation and second home market. The well-located hotel is situated in close proximity to Provincetown's central downtown area and ferry port, which provides traditional and fast ferry service from Boston. Provincetown is accessible from Boston and other parts of New England by ferry, plane, bus, and car. The popular tourist destination offers a wide array of seasonal activities and hosts dozens of annual festivals and events that draw visitors on a year-round basis.
The waterfront property is the largest hotel in Provincetown and offers a variety of amenities, including an outdoor pool and patio, immediate beach access, fire pit, cabana bar, pet-friendly rooms, and on-site parking for hotel guests. The hotel also contains the largest amount of meeting/banquet space in the market, allowing for additional target group business such as weddings.
"We have enjoyed operating hotels in Provincetown for over twenty years and the Harbor Hotel provided a unique opportunity to acquire a first-class, full-service ocean front property with a significant opportunity to improve its operating performance," said Linchris President, Bob Anderson.
Rob Davies, Managing Partner of Tramview, also commented, "We are excited to partner with Linchris to recapitalize this waterfront hotel in the supply constrained Cape Cod market. Linchris is a best-in-class, vertically integrated hotel specialist with significant experience on Cape Cod and a proven history of successfully optimizing operations. The investment provides an attractive cash flow profile along with an executable value-add opportunity to further increase income during the hold."
ABOUT LINCHRIS:
Linchris, based in Plymouth, MA is an experienced hotel investment and management firm founded in 1985 that has successfully operated and invested in hotel properties for the past three decades. Linchris is led by a nine-person investment and management team with an average industry experience of 23 years. Investing since 1992, Linchris currently operates 29 properties, representing 4,663 rooms in 14 states.
ABOUT TRAMVIEW CAPITAL MANAGEMENT:
Tramview Capital Management is a value-oriented real estate investment management firm focused on investing in institutional-quality real estate in targeted growth markets across the U.S. Tramview leadership has overseen and managed approximately $5 billion of equity invested globally across all property types and throughout the capital stack on behalf of institutional clients (e.g. pension funds, sovereign wealth funds, endowments, foundations), wealth management firms, and high net worth individuals. For more information, please visit https://tramview.com.