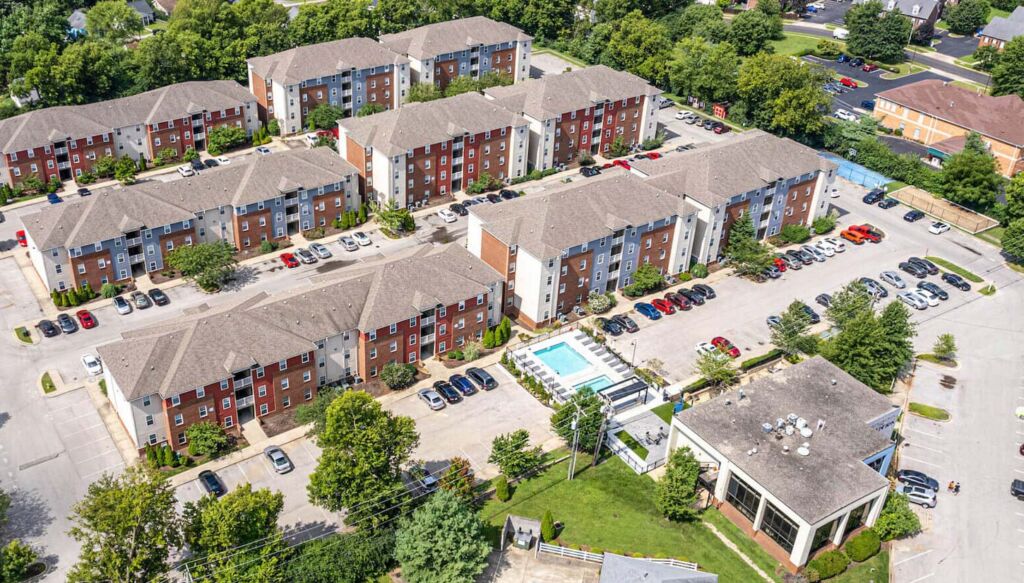 LEXINGTON, KENTUCKY (June 1, 2022) — We are pleased to announce that Tramview Capital Management, in partnership with Campus Advantage®, an industry leader in student housing property management, consulting, and investment management, has acquired The Stretch— a student housing property located near the University of Kentucky in Lexington, Kentucky.
This is the first joint project between Campus Advantage and Tramview Capital Management. The companies have formed a programmatic joint venture focused on value-add student housing assets at major universities across the country.
The Stretch is a 170-unit, 533-bed property with a mix of two-bedroom/two-bath (146 beds), three-bedroom/three-bath (3 beds), and four-bedroom/four-bath (384 beds) apartment homes, all of which have bed-bath parity. The community also features a strong amenity set with a two-story fitness center, a newly renovated pool area with a heated pool and hot tub, an outdoor grilling station, a fire pit, a basketball court, a sand volleyball court, a dog park, individual study rooms, and a business center.
The Stretch is well located approximately 1.1 miles from the campus core and 0.4 miles to the campus boundary. Residents are offered several options to commute to campus, ranging from an approximately 7-minute bus ride to a 20-minute walk.
"We are thrilled to be partnering with Tramview in the first of many endeavors via our private fund, and to once again do so in a market in which we've enjoyed prior success," said Mike Peter, President and CEO of Campus Advantage. "Our strategy is to employ Campus Advantage's exceptional leasing, operations, revenue management, and marketing platforms to create yet another successful community that exceeds expectations, from resident to guarantor to investor."
"Acquiring The Stretch aligns with our objective to invest in quality student housing properties at an attractive basis in markets with solid fundamentals. We are excited to partner with Campus Advantage, a best-in-class student housing specialist, who is well positioned to execute the value-add business plan to drive enhanced performance at the property and ultimately generate strong results for our investors," said Robert Davies, Managing Partner of Tramview Capital Management.
ABOUT CAMPUS ADVANTAGE:
Campus Advantage® is a real estate investment management firm fostering financially prosperous, higher education student housing communities through its acquisition, property management, revenue management, marketing, and consulting services. Since its founding in 2003, Campus Advantage has been creating successful communities that provide rewarding living, learning, and career experiences, and as a result has become one of the fastest growing private student housing companies in the nation. The company's asset acquisition and management strategies combined with its dedication to residence life and student development have made Campus Advantage one of the largest student housing and property management companies in the United States. We believe the Future Lives Here. Learn more at www.campusadv.com.
ABOUT TRAMVIEW CAPITAL MANAGEMENT:
Tramview Capital Management is a value-oriented real estate investment management firm focused on investing in institutional quality real estate in targeted growth markets across the U.S. Tramview was formed in 2020 and is currently investing its second comingled fund. Tramview leadership has overseen and managed approximately $5 billion of equity invested globally across all property types and throughout the capital stack on behalf of institutional clients (e.g. pension funds, sovereign wealth funds, endowments, foundations) and high net worth individuals. For more information, please visit www.tramview.com.